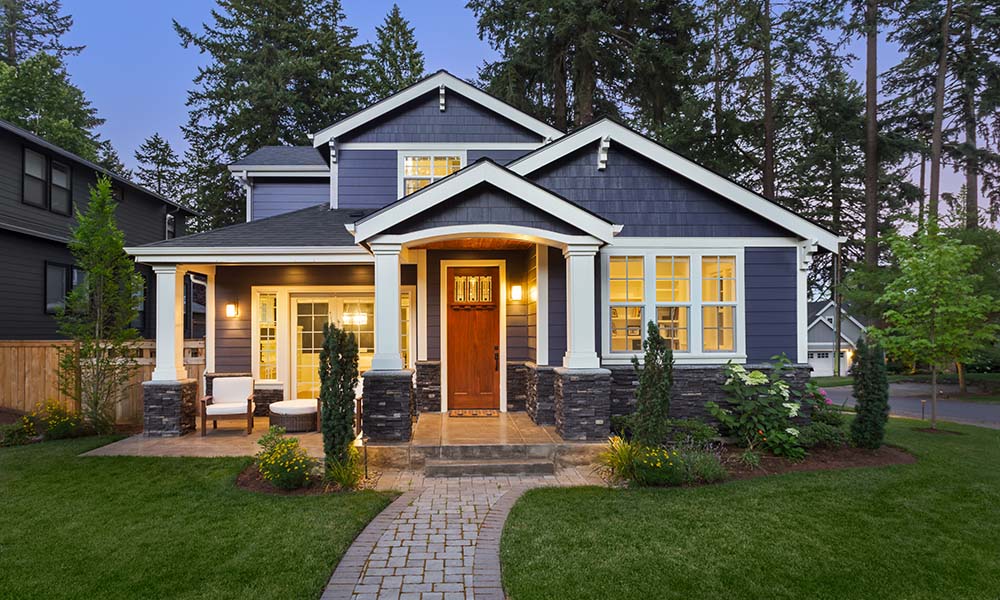 Statewide Insurance now has access to more than 20 of the top rated Florida homeowners insurance companies to choose from. Get answers to all of your questions about Florida homeowners insurance and get quotes from the best Florida homeowners insurance companies. You can Get A Quote on our website, get quotes over the phone, or visit our office in Dade City.
WHAT COVERAGE DO I NEED FOR MY FLORIDA HOMEOWNERS INSURANCE?
Special or Basic – A Florida homeowners insurance policy is likely to be an HO-3 (DP-3) or HO-8 (DP-1) policy form, otherwise known as special form or basic form. Each policy form is packaged with both property and liability protection but the extent of the protection varies widely between companies. Knowing the differences between these policies can help you make the right insurance decisions. It is very important to check your Florida homeowners insurance company's policy form to see which of these coverages you carry, especially if you have a home older than 40 years old. Most carriers will limit or exclude coverages for older homes, so be sure to ask your agent WHAT IS NOT COVERED.
Basic FormHO-8 or DP1, the basic form, policies are by definition the most basic type of Florida homeowners insurance available. Basic form policies protect against specific perils only such as fire or lightning, wind or hail, smoke, explosion, riot and civil unrest, vandalism or malicious mischief. Perils like theft and water damage may not be covered. Protection is only for the perils specifically listed in the Florida homeowners insurance policy, so you may not be covered as well as you would like. This product carries with it a list of excluded coverages and limitations.
Special FormHO-3, or special form, policies are the most common type of Florida homeowners insurance available. We recommend consumers, with older homes, verify that they are being offered an HO-3 special form policy. Unlike the basic form, special form covers all causes of loss except those which specifically are excluded by the policy. Special form also includes loss of use coverage, which pays for the living expenses you incur if your home is unlivable during repairs after a covered loss. There is also typically a no-fault medical coverage for minor injuries to guests at your home.
Videos: Florida Homeowners Insurance, Dwelling Coverage in a Florida Homeowners Insurance Policy, Contents Coverage in a Florida Homeowners Insurance Policy, Liability Coverage in a Florida Homeowners Insurance Policy
WHAT ADDITIONAL COVERAGES ARE AVAILABLE ON A FLORIDA HOMEOWNERS INSURANCE POLICY?
Other structures. If you have other structures on your property, that are not attached to the house, you will need to consider covering them under other structures.
Replacement cost for your contents. This coverage is normally not included in the base Florida homeowners insurance policy and must be added separately.
Valuables. If you have jewelry, furs, collectibles, antiques, electronics, or other valuable items, your Florida homeowners insurance policy may not give you the protection you need. Even the best Florida homeowners insurance companies limit the amount of coverage on these items to $1,000 – $2,500. You may want to consider a personal articles floater to insure the items for full value.
Sinkhole coverage. Sinkhole coverage can be added to your Florida homeowners insurance policy for an additional premium. Some companies require that you pay for an inspection before they will add this coverage to your policy. If you do not carry sinkhole coverage, your policy will only cover catastrophic ground collapse, which means your home must be condemned in order to trigger coverage.
WHAT COVERAGES MIGHT BE EXCLUDED ON A FLORIDA HOMEOWNERS INSURANCE POLICY?
Animal Liability. Some Florida homeowners insurance companies will exclude or limit the amount of coverage for an animal related claim. Other coverage can be obtained to cover animal liability, so check with your agent.
Sinkhole Coverage. In Central Florida it is difficult to obtain sinkhole coverage. The best Florida homeowners insurance companies offer catastrophic ground collapse coverage which will only trigger coverage if the home is condemned. Cosmetic damages are not covered under the catastrophic ground collapse unless the home is condemned. Many leading Florida homeowners insurance companies will still offer sinkhole protection, so if you are interested in covering this make sure you ask about it.
Trampolines, skateboard ramps, diving boards, slides, un-gated and un-screened pools, or other unusual or dangerous conditions may be un-insurable or excluded from coverage.
As mentioned above, theft and water damages are excluded from basic form Florida homeowners insurance policies. Some carriers will even limit or exclude water damage coverage for older homes, even with their special form HO-3 policy.
WHAT DOES REPLACEMENT COST AND ACTUAL CASH VALUE MEAN?
Florida homeowners insurance property claims are settled in two ways: replacement cost (RC) and actual cash value (ACV). A replacement cost settlement will pay up to the replacement value cost of the home, but an ACV settlement will depreciate the value of the home based on age and condition at the time of loss. Special form Florida homeowners insurance policies are generally written as replacement cost but basic form policies are generally written as actual cash value. Your contents inside the home are also settled under replacement cost or actual cash values. Make sure you have replacement cost coverage on your Florida homeowners insurance if you would like to replace the items in your home with new items instead of used.
WHY DO THEY WANT TO INSURE MY HOME FOR THIS AMOUNT? MY HOME'S NOT WORTH THAT MUCH ANYMORE?
In Florida we have certainly seen home values increase. Leading Florida homeowners insurance companies are still required to insure your home, on a special form policy, for the amount it would cost to rebuild your home to today's codes and standards. In order to calculate that value most companies use a builder's software program that determines this figure based on your square footage, layout, and age of the home. Depending on the quality and materials used, homes in Florida generally range from $150 to $350 per square foot for rebuild costs. Older homes are sometimes estimated a little higher, due to the construction materials used during specific time periods. Replacement cost figures and your property's current market value may vary drastically.
WHAT IS THE BEST WAY TO SAVE MONEY ON MY FLORIDA HOMEOWNERS INSURANCE?
The best way to save money is to shop many of the best Florida homeowners insurance companies. Our experts have access to more than 20 of the best Florida homeowners insurance companies. Get a quote online, call us, or visit our Dade City office!
Wind mitigation credits offer big discounts. If you have a home older than 2002, you can still qualify for big discounts if your home is eligible. This would require a licensed home inspector to verify the discounts your home is eligible for.
Deductible. You may increase your deductible in order to reduce your Florida homeowners insurance premium, but you should carefully consider such factors as how much of a discount you will receive for a given deductible, and how much you can afford to pay for each claim.
Monitored alarm system discount. Many Florida homeowners insurance companies offer discounts to policyholders with a monitored security system.
Gated, guarded, or single entry communities. Florida communities that are gated, have a security guard, or have a single entry into the community are eligible for discounts with most Florida homeowners insurance companies.
Age of home discount or surcharge. Most leading Florida homeowners insurance companies offer discounts based on the age of the home. Newer homes receive discounts due to more stringent building codes that have been applied in recent years. Older homes typically receive surcharges based on their age. This is due in part to less stringent building codes used in older homes.
Type of construction. Masonry homes are less expensive to insure than frame homes due to their fire ratings.
Protection class rating. Homes that are located within 5 miles of the fire department and within 1,000 feet of a fire hydrant are less expensive to insure than homes that are not. These homes obviously have a faster fire department response time.
Territory. Where your home is located in the state can significantly impact your Florida homeowners insurance rates. Areas that suffer more losses (windstorm, sinkhole, etc.) have higher rates than areas that do not.
Usage. Secondary or seasonal homes will generally pay a little more than primary residents.
Credit history. Florida homeowners insurance companies are permitted to use credit history as one of the factors that determine risk. Stronger credit ratings can provide a discount from some companies.
Retired? If you have retired, or are over the age of 50, some carriers offer discounts.
Insurance company appetite. Certain Florida homeowners insurance companies experience better claims histories with certain homes, locations, and age groups. Their rates reflect this by offering lower rates to those groups they have found the best experience with.
WHAT IS CITIZENS INSURANCE?
Citizens Insurance is the state of Florida's homeowners insurance program. It is meant to be an insurance of last resort for those who cannot get insurance in the open Florida homeowners insurance market place.
OUR LIST OF FLORIDA'S BEST RATED HOMEOWNERS INSURANCE COMPANIES FOR 2023
Castle Key: Owned by Allstate and they offer a multi line discount when you place your auto insurance with Allstate.
Heritage Insurance: Rates are very competitive in Florida. Publicly traded company writing in multiple states.
Universal Property & Casualty Insurance: Provides broad coverage, does not limit water damage coverage, does not depreciate roof claims.
Edison Insurance: Great coverage and price. Offer flood insurance coverage endorsement on their homeowners policy.
Florida Peninsula Insurance: Comparable coverage and rates to Edison Insurance.
Olympus Insurance: Rates in Central Florida are very competitive on newer homes. Offer a broad array of additional coverage others may not.
Security First Insurance: Offers very good rates for homes in rural areas where fire hydrants may not be nearby.
Clear Blue Insurance: One of the only AM Best rated companies writing homeowners insurance in Florida.
American Integrity Insurance: Broad coverage is available. Very low rates for new construction and/or newer roof.
American Traditions Insurance: One of the older companies on this list. Offer great discounts for newer roof.

Citizens Insurance: State of Florida homeowners insurance program. Very competitive rates and speedy claims process.